Welcome to the Bacons Motorcycles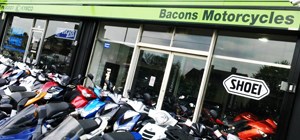 Here you will find the information you need to make the right decision on choosing your new motorbike or scooter. We offer a wide range of products from helmets and protective clothing, through to chains and accessories, not to mention the bikes themselves. If you have any queries, please feel free to click, call or drop in and a member of our team will be pleased to help. There is parking available around the side of the shop in Oaks Lane. It does have yellow lines but they are only in operation between 11am and 12 noon.
Kawasaki's 2016 range now stock --- We are pleased to announce that we have a good range of the 2016 Kawasaki bikes in our show room. The new and all improved ZX-10R (in stock) the massively popular Z800 (in stock) and a limited selection of 2015 Pre-Registered Kawasaki ER-6n's, ER-6f's and 2016 Z800's. All bikes are ready and available to purchase today, feel free to come down and speak to one of our advisers about these marvellous machines.
New Scooter Showroom now OPEN! - We are please to announce that we have opened a new scooter showroom nextdoor to our exisiting showroom stocking new Peugeot, Kymco and Kawasaki scooters.
 We also have a wide range of used motorcycles and scooters available for viewing and sale, for more information click here.
Knowledge Deals --- We have a range of bargains for those of you that are about to start or are on your knowledge course. For more information on what bikes and scooters are available please click on the link above or call in and we shall talk you through what we have available.
Looking for the perfect gift for someone? Then look no more then here as we now have gift vouchers available from £10 onwards!

WiFi available in store --- If you're planning on waiting around while we service your bike, feel free to bring your laptop / tablet / smartphone down and use our free WiFi service.

We will do our very best to price match any deal for a new like for like Kawasaki (proof is required).